01 Dec

911inform Version 4.0 New User Interface (UI)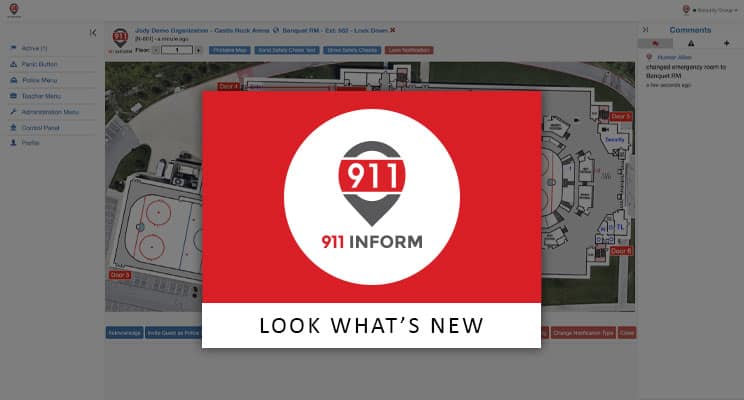 The new and refreshed UI now has a more modern and sleeker appearance focused on the quick access of situational awareness information. While the changes may seem minor, they have an overall positive impact on operational speed and access to pertinent information during an event. The release of 4.0 demonstrates how 911inform continues to be the most innovative emergency management and situational awareness software on the market today.
One major functional change to the UI includes the collapsible user menus. This feature allows for greater visibility to the floor plans while still maintaining visual access to the comments and other situational awareness information. Event Comments are now placed to the right-hand side of the active window allowing you to view both the floor plan and comments simultaneously during events. The right viewing pane will now automatically display content from connected building systems when it is collapsed letting the operator know that there is new information to be viewed.
In addition to the text information in the right viewing pane, we have added additional tabs for all the connected building systems available for a client. These include Active Door Monitoring, Camera Information, Safety Check Response, and Shots Fired Log just to name a few.
Another functional change is the stacking of multiple events under the Active Tab on the left-hand side of the screen. This allows you to view one notification at a time in expanded view and easily switch between multiple open events. While viewing the current event, any additional events will highlight the Active Tab on the left. You can then click on the Active Tab which will present a drop-down menu of all active events allowing you to easily toggle between them. This feature also allows for multiple dispatchers to work separate events within the same building or campus.
These changes have improved the viewing and overall experience on mobile and small screen devices. By creating this responsive layout, pages will automatically adjust on multiple screen sizes giving the user easier access to the information and feel less cluttered.
Along with our new User Interface, we have added a multitude of performance and security updates in addition to:
Integration with RS2's Access It! Door Control system. In addition to locking and unlocking during 911inform events, you can now monitor doors outside of events using 911inform's Door Monitoring Service (DMS)
Integration with Shooter Detection Systems.  When SDS detects a gunshot within a building, it will now trigger a 911inform notification event and track it on the floor plan.
Location Discovery Service (LDS) provides the ability to track user's extensions on the client's phone system and detect when a phone has moved within the building, campus, or to an off-site location. This feature provides proper address mapping for 9-1-1 use and makes the client Ray Baum's Act compliant. To read more about LDS go to 911inform.com/911informlds.
For a complete list of our latest updates and features: within the 911inform software, click on the user menu and select Change Logs.
If you would like to request a new feature please email us at support@911inform.com or from within the 911inform software, click on the User tab in the upper right-hand corner and select Feature Request.